The Kilmarnock Collection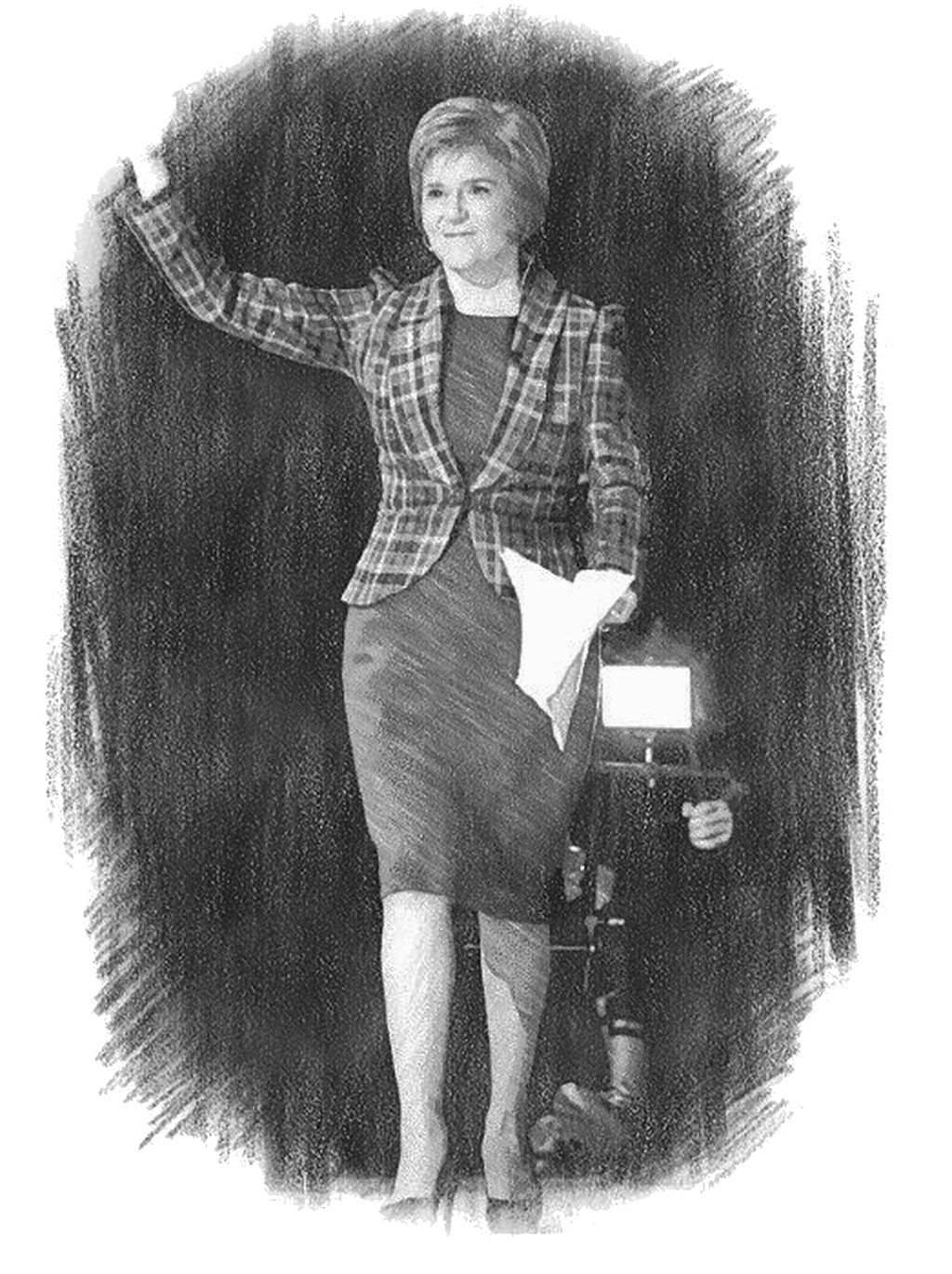 Nicola Ferguson Sturgeon is the current First Minister of Scotland and leader of the Scottish National Party (SNP), in office since November 2014. She is the first woman to hold either position. Sturgeon has been a member of the Scottish Parliament since 1999, first as an additional member for the Glasgow electoral region from 1999 to 2007, and as the member for Glasgow Southside since 2007 (known as Glasgow Govan from 2007 to 2011).
Nicola Ferguson Sturgeon was born in Ayrshire Central Hospital in Irvine, on 19 July 1970. She is the eldest of three daughters born to Robin Sturgeon, an electrician, and Joan Kerr Sturgeon (née Ferguson), a dental nurse.
She grew up in Prestwick and Dreghorn, attending Dreghorn Primary School from 1975 to 1982 and Greenwood Academy from 1982 to 1988. She later studied at the University of Glasgow, where she read Law. Nicola graduated with a Bachelor of Laws (Hons) in 1992 and a Diploma in Legal Practice the following year. During her time at Glasgow University she was active as a member of the Glasgow University Scottish Nationalist Association and the students' representative council.
Following her graduation, Nicola Sturgeon completed her legal traineeship at McClure Naismith, a Glasgow firm of solicitors, in 1995. After qualifying as a solicitor, she worked for Bell & Craig, a firm of solicitors in Stirling, and later at the Drumchapel Law Centre in Glasgow from 1997 until her election to the Scottish Parliament in 1999.
She has campaigned against replacing the Trident nuclear weapons system and has been a critic of austerity, saying that the UK government's "austerity economics" is "morally unjustifiable and economically unsustainable".
Nicola is noted for campaigning for women's rights and gender equality, and is a self-described feminist; she has argued that Scotland's feminist movement is not simply symbolic, but "sends a powerful signal about equality". She has hailed Scottish feminist economist Ailsa McKay as one of her inspirations.
Sturgeon won the Scottish Politician of the Year Award in 2008, 2012 and 2014. In 2004, 2008 and 2011 she also won the Donald Dewar Debater of the Year Award at the same event, which is organized by The Herald newspaper. Forbes magazine ranked Sturgeon as the 50th most powerful woman in the world in 2016 and 2nd in the United Kingdom.
In 2015, BBC Radio 4's Woman's Hour assessed Sturgeon to be the most powerful and influential woman in the United Kingdom.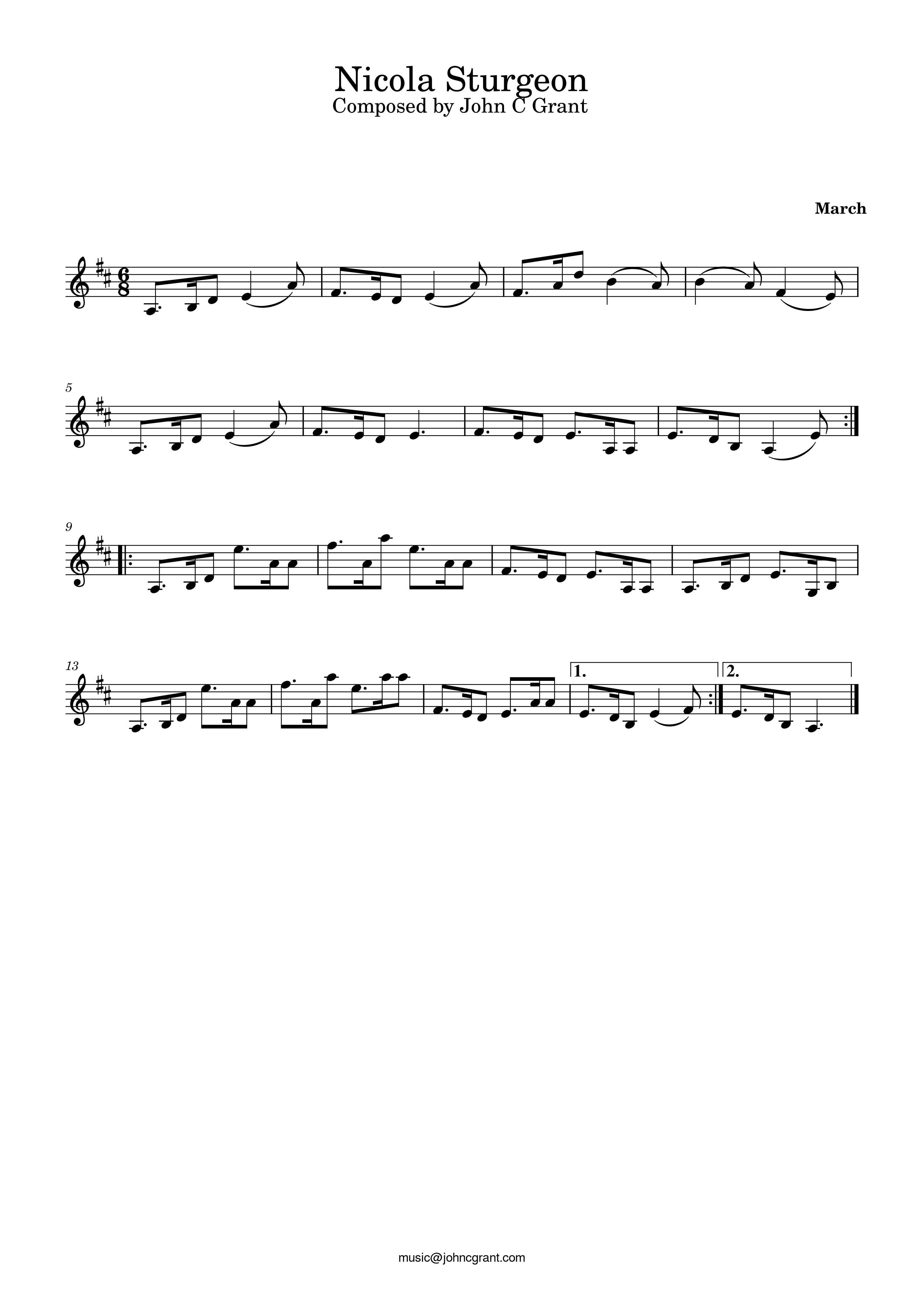 ---
The Daily Show - Nicola Sturgeon




You can download a PDF of the sheet music here.

Click here to return to website.