The Kilmarnock Collection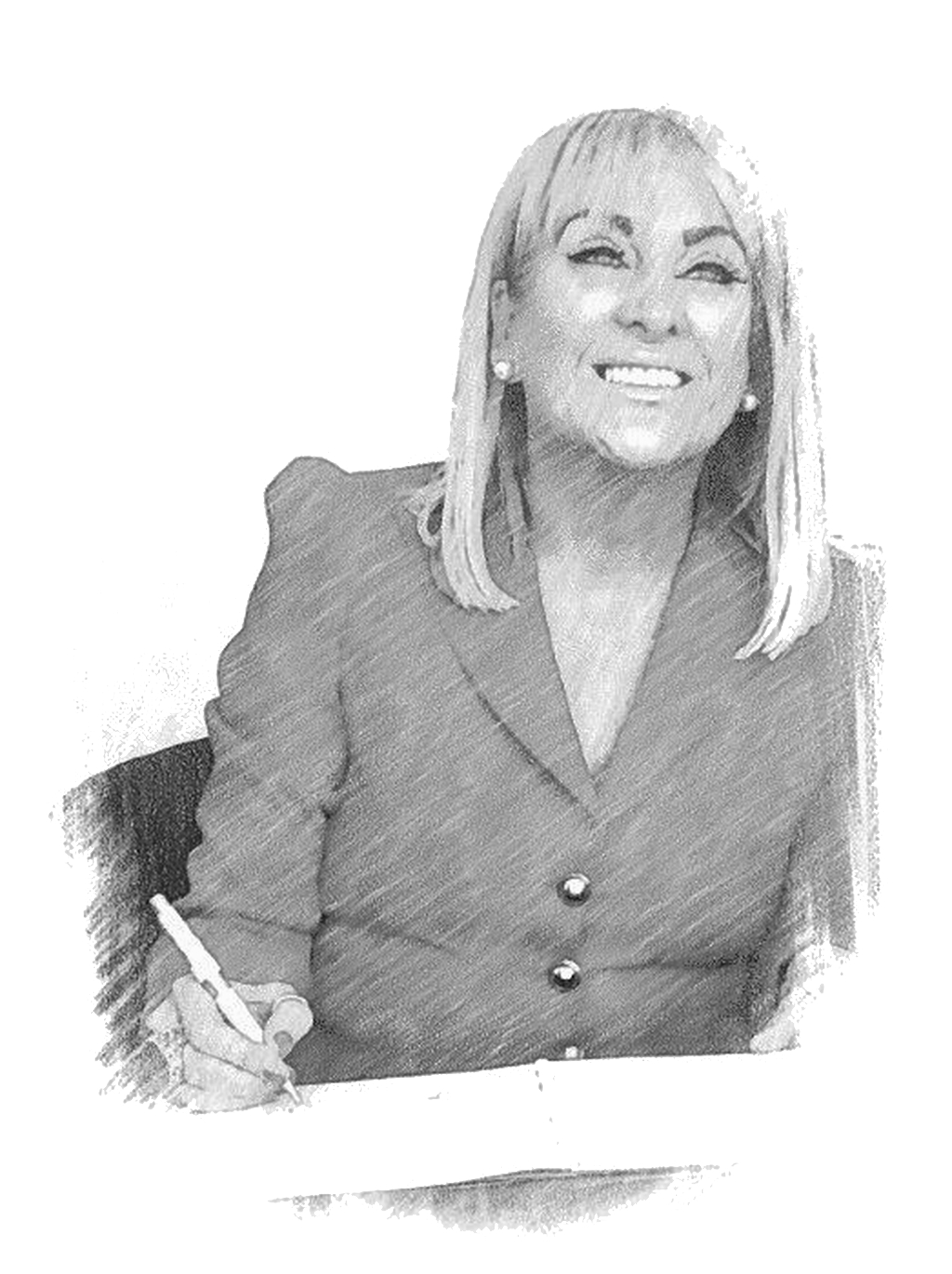 Marie Macklin CBE is Founder of The HALO Urban Regeneration Company. The HALO brand is an imaginative, innovative and inspirational urban regeneration initiative to revitalise former vacant land set within communities which are experiencing economic challenges. HALO's biggest economic asset is the untapped social capital of local communities which have a huge beating heart.
The first of four UK HALO projects is regeneration of a former bottling plant which will create a dynamic commercial, educational, cultural, leisure and lifestyle quarter in Marie's home town of Kilmarnock Scotland. The development will be fuelled by renewable energy and is a focal point for developing a skilled workforce, increased productivity as well as promoting enterprise and innovation.
This multi-faceted regeneration of a 28-acre site, formerly the home of Johnnie Walker, the world's leading Scotch whisky, will generate over £53million in GDP for Kilmarnock and £65million for Scotland.
The development will stimulate over 1500 jobs.
Marie is also a director of The HALO Belfast Ltd, which aims to bring the HALO concept to the Northern Irish capital and is currently consulting with local communities to ensure that this development meets the needs of local people. Marie Macklin CBE is Executive Chair of Macklin Enterprise Partnerships. Macklin Enterprise Partnerships seeks to invest in entrepreneurs and their businesses. Macklin Enterprise Partnerships takes direct stakes in selected businesses or invests through special-purpose funds created and managed with like-minded third parties. Marie takes the lead in identifying potential partners and providing start-up and management advice to selected entrepreneurs.
Before establishing Macklin Enterprise Partnerships in 2015, Marie had transformed a construction business, founded by her father, into an entrepreneurial company engaged in economic and social transformation in Scotland, after acquiring it in 2003. The Klin Group was distinguished by her inspired and creative approach to investment and economic regeneration. The company's foundations had been set in revitalising land and property and investing in challenging and demanding initiatives which helped to transform communities. She was the first developer to locate a William Morrison Supermarkets PLC in Scotland in an £85M regeneration development.
Marie's business career started in development, financial services and banking. She trained as an accountant with Morrison Construction PLC, responsible for costing and sub-contractor management. She joined MJ Marketing and Management Consultants, with offices in Glasgow and New York, with responsibility for a portfolio of clients in various sectors, assisting with business plans, marketing and branding.
In 1992, Royal Bank Invoice Finance head-hunted Marie to help establish a new operation in Glasgow, involving the transfer of more than 500 Scottish and Northern UK customers within a year. She was responsible for security, service and profitability, ultimately becoming Head of Security and Services in a period marked by 'Black Wednesday'. She was a member of the Project Columbus team which led a fundamental restructuring of RBS's UK operations, including the tightening of credit controls.
Marie is a Board Member the Scottish Property Federation and until December 2015 Marie was also on the Board of Management at Ayrshire College.
In March 2018 Marie was appointed to the Commercial Advisory Group of Sunderland based Northern Housing Consortium (NHC).
In October 2016, she was appointed to the Economic Leaders Board (ELB) by Lord William Haughey OBE to oversee the Glasgow and Clyde Valley City Deal, a £1.1 billion infrastructure initiative, funded by UK Government and Scottish Government. Marie is Patron to Centrestage Communities, a social enterprise arts organisation. She has a long-established commitment to the development, excellence and philanthropy of young people. She actively encourages entrepreneurs by advising, investing, sponsoring and supporting schools, colleges, arts and community organisations to engage young people in business.
Marie assists female entrepreneurs to build business networks through her initiative, "Women in Enterprise", in partnership with the Association of Scottish Business Women, whose Award for 'Outstanding Contribution to Business' she received in 2013. In 2015, the Association named her as "Woman of Inspiration to business in Scotland".
Marie is also an Advisory Board Member of the Scottish Chambers of Commerce and Women's Enterprise Scotland Women's Business Mentoring. During November 2016, Marie was recognised by the Scottish Business Awards as "Female Business Leader of the year".
In March 2017, she was named Non-Executive Director of the year by the Institute of Directors Scotland (IoD), for her engagement with Appointed. Also, in March 2017 Glasgow Caledonian University awarded Marie an "Alumna for Lifetime Achievement in business".
In October 2017, she was named "Business Woman of the year" by "Women's Enterprise Scotland".
She was awarded a C.B.E in the Queens 2014 New Year's Honours List for 'Services to Economic Regeneration and Entrepreneurship in Scotland'.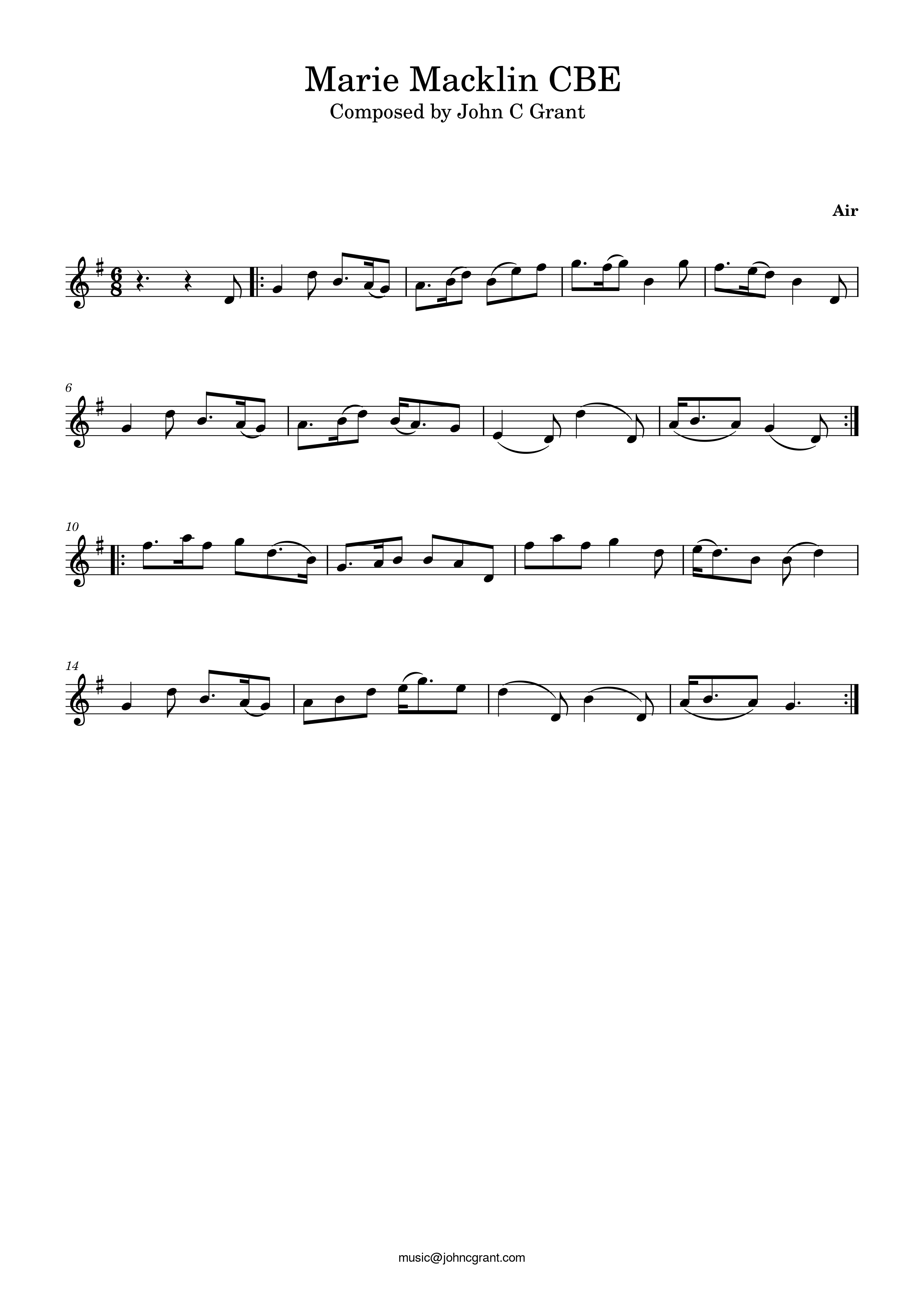 ---
Marie Macklin at TEDxUWS




You can download a PDF of the sheet music here.

Click here to return to website.